Department History
The Marion Police Department was established on April 16th, 1879 by City Ordinance. The Police Department consisted of a Town Marshal and Night Watchmen. The Night Watchmen's duties includes many of the same general police duties as of today, but also included the lighting and extinguishing of all street lamps at times established by City Council.
The majority of the information on the Marion Police Department history represents the research and compilation of retired Major Robert Turner up to 2002.
Click a link to the right to explore the department's history.
Ordinance
An Ordinance to Organize and Maintain a Police Department.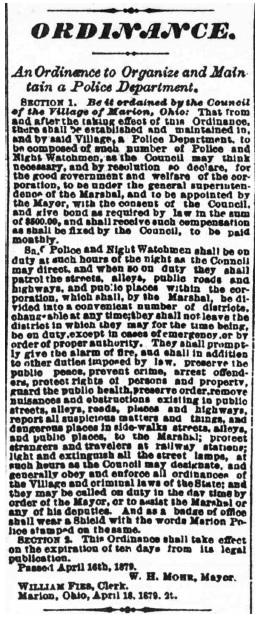 SECTION 1. Be it ordained by the Council of the Village of Marion, Ohio: That from and after the taking effect of this Ordinance, there shall be established and maintained in, and by said Village, a Police Department, to be composed of such number of Police and Night Watchmen, as the Council may think necessary, and by resolution so declare, for the good government and welfare of the corporation, to be under general superintendence of the Marshal, and to be appointed by the Mayor, with the consent of the Council, and give bond as required by law in the sum of $500.00, and shall receive such compensation as shall be fixed by the Council, to be paid monthly.
Police and Night Watchmen shall be on duty at such hours of the night as the Council may direct, and when so on duty they shall patrol the streets, alleys, public roads and highways, and public places within the corporation, which shall, by the Marshal, be divided into a convenient number of districts, changeable at any time; they shall not leave the district in which they may for the time being, be on duty, except in cases of emergency, or by order of proper authority. They shall promptly give the alarm of fire, and shall in addition to other duties imposed by law, preserve the public peace, prevent crime, arrest offenders, protect rights of persons and property, guard the public health, preserve order, remove nuisances and obstructions existing in public streets, alleys, road, places and highways, report all suspicious matters and things, and dangerous places in side-walks, streets, alleys, and public places, to the Marshal; protect strangers and travelers at railway stations; light and extinguish all street lamps, at such hours as the Council may designate, and generally obey and enforce all ordinances of the Village and criminal laws of the State; and they may be called on duty in the day time by order of the Mayor, or to assist the Marshal or any of his deputies. And as a badge of officer shall wear a Shield with the words Marion Police stamped on the same.
SECTION 2. This ordinance shall take effect on the expiration of ten days from its legal publication.
April 16th, 1879
W.H. Mohr, Mayor
William, Fies, Clerk.
Marion, Ohio, April 18, 1879.