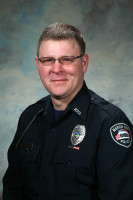 Sunday, March 1st was Officer McCullough's last day with the department. Office McCullough came to the Marion Police Department via the Kenton area. He graduated from Kenton High School in 1991, then the Lima Police Academy in 1994 with his OPOTA certification and Associate's Degree in Criminal Justice.
In December of 1994, Officer McCullough became a part-time Officer with the Ada Police Department and was hired full-time there in June of 1995. In September of 1997, Officer McCullough left the Ada Police Department to be hired full-time at the Marion Police Department. He has been here since then.
Officer MuCullough has been involved with his family farm along with his own farm adventures and his tree business – Country View Tree Service – that he started in 1999. He plans to continue with both as he moves forward with life after the police department, and hopes for it to grow.
Thank you for your years of service, JT, and good luck with your future plans!