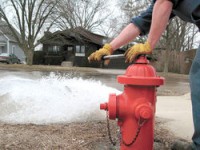 Aqua Ohio's Marion Division will conduct water main flushing in the Marion County service area Monday, October 20 through Friday, October 24 between 8:00 am and 4:30 pm.
No interruptions in water service will occur as a result of the flushing but customers may notice a drop in water pressure of temporary water discoloration. If possible, customers should refrain from doing laundry to avoid possible staining while the flushing is taking place near their home.  If tap water is discolored, allow it to run until clear.  Running several cold-water faucets at the same time will help the water clear faster.
Week 6 (of 10) Flushing Schedule:
Monday, October 20:  Courtland Street, Eisenhower Avenue, Walnut Street, Ellis Place, Presidential Drive, South Greenwood Street, Cummins Avenue, Durfee Drive, Sargent Street, Elm Street.
Tuesday, October 21:  Brightwood Drive, Then Between East Center Street and Mount Vernon Avenue – Forest Street, Summit Street, Hane Avenue, South Grand Avenue.
Wednesday, October 22:  South Seffner Avenue, Uhler Avenue, Reed Avenue, Forest Lawn Boulevard, Pennsylvania Avenue.
Thursday, October 23:  Kenmore Avenue, Merchant Avenue, Clover Avenue, Homer Street, Spencer Street, Clairdon Avenue, Kensington Place, Sara Avenue, Peterson Street, Dennis Avenue, Trachsel Avenue.
Friday, October 24:  Then South of Mount Vernon Avenue – Forest Street, Summit Street, Elmwood Drive, King Avenue, Vernon Heights Boulevard, Leetonia Road, Rosedale Avenue.
This is also a good time for customers to check and flush their home water system; they can find tips on home water system maintenance at www.aquaamerica.com/pages/customerservice.aspx.
Customers who have questions may call our Customer Service Center toll-free at 877.WTR.AQUA (877.987.2782)
Aqua Ohio is the Buckeye State's largest investor-owned drinking water and wastewater utility and serves about 5000,000 Ohioans in 17 counties.  Visit AquaAmerica.com for more information, or follow Aqua on Facebook at facebook.com/MyAquaAmerica and on Twitter at @MyAquaAmerica.